---
Posted on April 21, 2021
---
In 2018, Japan NPO Center (JNPOC) started an opinion site called "NPO CROSS" to discuss the role of NPOs/NGOs and civil society as well as social issues in Japan and abroad. We post articles contributed by various stakeholders, including NPOs, foundations, corporations, and volunteer writers.
For this JNPOC's English site, we select some translated articles from NPO CROSS to introduce to our English-speaking readers.
Ten years have passed since the Great East Japan Earthquake and Tsunami, which particularly hit hard in the Tohoku region. Taking this occasion, we took up an NPO in Tohoku that has been providing study support for children since the disaster, and report on its ten years of achievements as well as the challenges they face including the impacts of COVID-19.
---
Looking back over the last 10 years since the Great East Japan Earthquake and Tsunami disaster: "Children gave us our program outcomes"
March 11, 2021 will mark the 10th anniversary of the Great East Japan Earthquake.
TEDIC, an NPO based in Ishinomaki City, Miyagi Prefecture, is an organization that provides study support (educational enrichment program) for children and youth. Mr. Yu Monma, the President of TEDIC, founded the organization in 2011 after the Great East Japan Earthquake to do something in his hometown of Ishinomaki. The organization is working to create a local community where all children and youth can live their lives on their own.
Ten years have passed since its establishment. We interviewed Mr. Taira Suzuki, Vice President and Managing Director, about their support for children, who will bear the future, and about the program's achievements.
COVID-19 has brought about various changes in the lives and values of those of us living in Japan. In order to create a new post-COVID society, I would like to use this as an opportunity to think again about how we, as corporations and citizens, can contribute to society and to NPOs that provide support for people in need.
It all started with study support that met each child where they were at
Q. It has been 10 years since you started your activities immediately after the Great East Japan Earthquake. Could you tell us about your activities during this past decade?
At the beginning of our activities, we supported children's learning at shelters, and then we supported children who were truant or withdrawn from school. We came to know through our activities that it was not simply a matter of them being victims of the disaster but that these children had been facing various problems even before the disaster. For example, there were children who were not accepted at school and had no place to stay at home, children who had no place to express themselves, and children who were labeled as "truants." Monma, the representative of our organization, was greatly shocked by these facts. I think one of the origins of TEDIC's activities is our resolve and experience at that time to meet each child where they were at.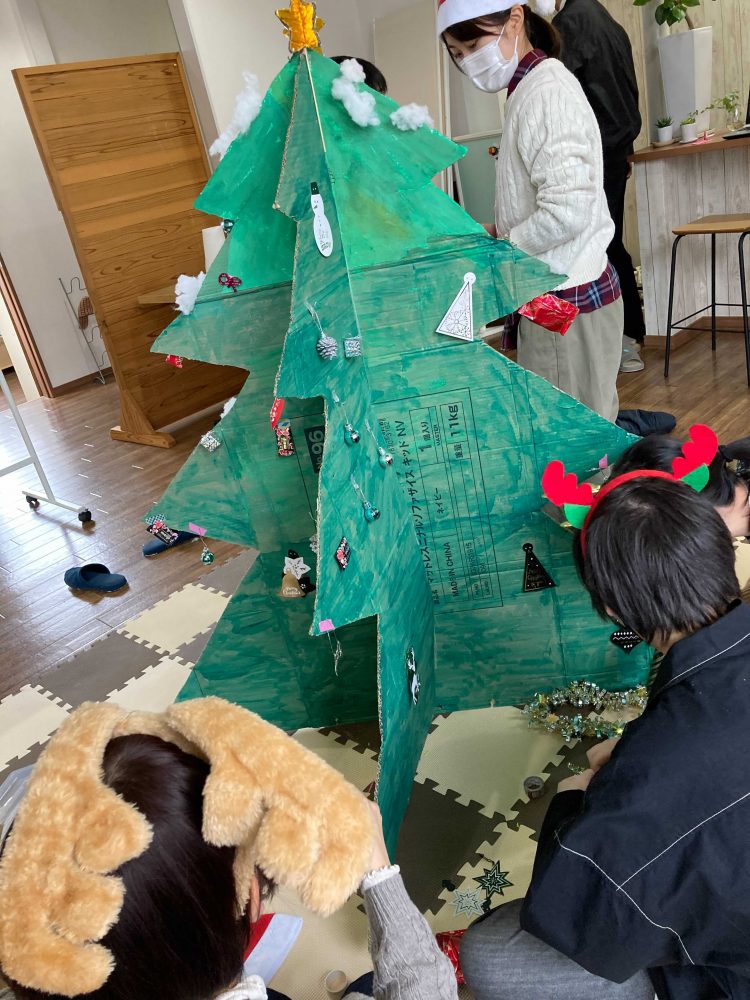 Preparing for the Christmas party in TEDIC's daytime support
As the number of collaborative projects with the government increased, we learned that government's stove-piped sectionalism affected support for children from needy households. For example, public health nurses are in charge of providing support to children who are not yet in school, and their household situations are monitored by these nurses. However, once children start to go to school, the city's board of education takes charge, and the information about the children is not passed on. And when children graduate from high school, there is no one to care about them anymore. There are structural barriers.
There are no adults who can work with a child over a long period of time. Therefore, we thought that there needs to be a system in the local community where people can be involved with the same children over a long span, so from 2018, we have been contracted to operate the Ishinomaki Regional Consultation Center for Children and Youth by Miyagi Prefecture.
The outcomes are what the children gave us
Q. What are the outcomes of 10 years of your activities?
When I step back and think about the outcomes of our program that we can talk about in front of the children, hmm, I wonder what they are. I would say that the greatest outcome is that children are living normal lives in town.
I heard from one of our long-time volunteers that they were just so happy when they bumped into a child who used to attend our study support program, because they could naturally ask the child, "How are you doing?" and have a casual conversation. This is what I mean by children being able to live normal lives, where adults care about them and they let you know that they still care even after you leave our program. Perhaps we can call it our achievement that we now have people in town who have been and are looking after the children's growth. How the town itself is now is also part of our achievement. What the children have given to us are also what we can call our achievements. Through our activities, we always want to make sure that everyone is able to lead a normal social life.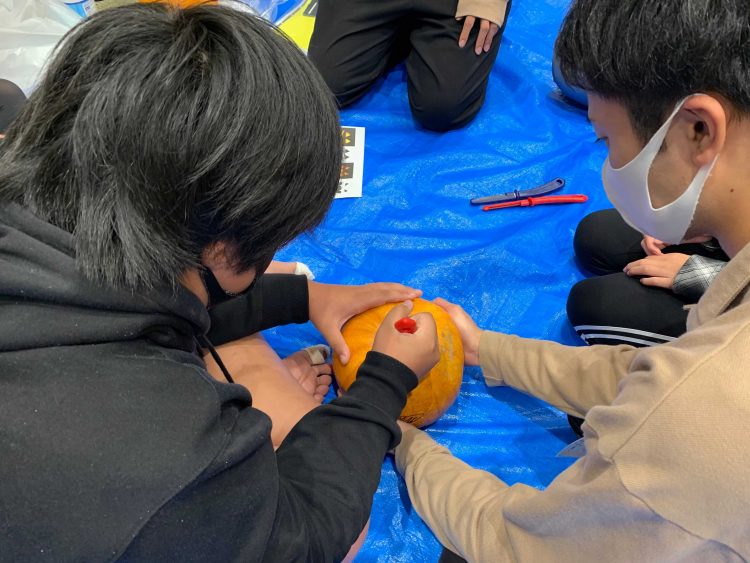 Making lanterns at the Halloween event for after-school support
We are now being asked to give our opinions on children by the local governments. The scope of TEDIC's activities has expanded greatly over the past 10 years, as we have been requested by the city and prefectural governments to conduct projects. I think this is one of the proofs that TEDIC has been socially recognized through our activities for what we have valued. With our longstanding trusting relationship with the governments, we sometimes exchange opinions with them from the very beginning of the project when its objectives are being formulated. Even if TEDIC does not get the contract, we can say that we have been involved in developing the public system together with the governments.
Not being able to take care of tired staff
Q. What are your current activities with the COVID situation?
I feel that the impact of the spread of the coronavirus infection is becoming more and more serious every day. We have added infection prevention measures to our operations, and the stress on the front-line staff is considerable as they feel they must not let anyone get infected through our activities. There are many operations that cannot be carried out in the same way as before, so for those operations we need to rebuild it from scratch.
The negative impact on children has also become evident. TEDIC receives a lot of consultations from government and private support organizations, and winter is usually the time when we receive an increase in more serious consultations such as entrance exams and job hunting, but because of COVID, we may even see an increase in consultation cases on suicidal ideation. In the past, after someone from our staff handles a serious case, the other office staff could provide care for them, but now the office staff are all too tired to offer help for each other. We have to do something, but we are struggling with how to make ends meet and how to carry out our daily activities. I guess we might be in the middle of a downward spiral now…
Taking a fresh look at the origins of our work
Q. What are your thoughts on TEDIC's future activities?
TEDIC's administrative staff are rethinking the idea of initiating independent projects, and for that I think we need to plant seeds for the future. Although the visions of independent civic activities initiated by the nonprofit sector and of activities conducted by the local governments as public policies are the same, I think that the content, goals, and outputs of the respective activities are different. The goal of the prefectural or city government's policies tends to be its systemization, which often also becomes their outcome. Of course, there are things that cannot be done within the system, and this is what we NPOs can tackle. We fully understand this distinction, yet still find it difficult to take on what the government cannot do.
I feel that we are too busy every day to look back on what we have done as TEDIC and to fully discuss our future direction. First, I would like to talk with the staff on the ground. When we do projects with the prefecture, we would like to have a full discussion on the goal and planning for the next five years. In order to do so, we need to increase the number of citizens who support our activities, and also build a stronger trusting relationship with the government.
From next year onwards, due to COVID, I think there will be changes in the 2011 earthquake and tsunami reconstruction grants. With this in mind, we would like to discuss and clarify with the staff on the ground what kind of society we want to realize and what kind of activities we need to carry out to achieve it. We would like to become an organization capable of communicating these things properly to the government, and talk through our activities.
Talent development required in the future
Q. It's been ten years since the disaster, but what can businesses and citizens do to help support organizations proceed to next steps?
I'm not originally from here, so I don't know what it was like right after the earthquake, but I certainly feel the passage of ten years' worth of time. I think that the Ishinomaki citizens sense that the number of people in the city is decreasing, although they don't say it in words.
We do expect and appreciate financial assistance from companies and citizens who support us, but now more than ever, we need human resources. For TEDIC, we feel the need for a generational change in the organization and to develop the next generation of staff. There are other NPOs in Ishinomaki where mid-level staff are leaving, and I am worried about the future. However, we don't have the know-how or the capacity for talent development. Also, we want to work with outside organizations in such areas as IT, business development, and organizational development over the mid to long term span, but we don't have the time to do so at the moment. Of course, we would like to have interest and direct support for our activities, but we also need your help in developing human resources within the organization.
---
Original text (posted on March 10, 2021) by Nahoko Uchida (JNPOC's volunteer writer); translated by JNPOC
---
---