---
Posted on October 22, 2020
---
In 2018, Japan NPO Center (JNPOC) started a news & commentary site called "NPO CROSS" to discuss the role of NPOs/NGOs and civil society as well as social issues in Japan and abroad. We post articles contributed by various stakeholders, including NPOs, foundations, corporations, and volunteer writers.
For this JNPOC's English site, we select some translated articles from NPO CROSS to introduce to our English-speaking readers.
The Role of Art in the Work of the Artists with Disabilities
The article was covered and written by Yuko Watanabe, a volunteer writer of the Information Dissemination Volunteer Project by Japan NPO Center.
Interviewees: Ms. Shoko Nakatsuka, Able Art Japan, Tokyo Office; Mr. Mitomu Sakabe, Able Art Japan, Tohoku Office (Sendai)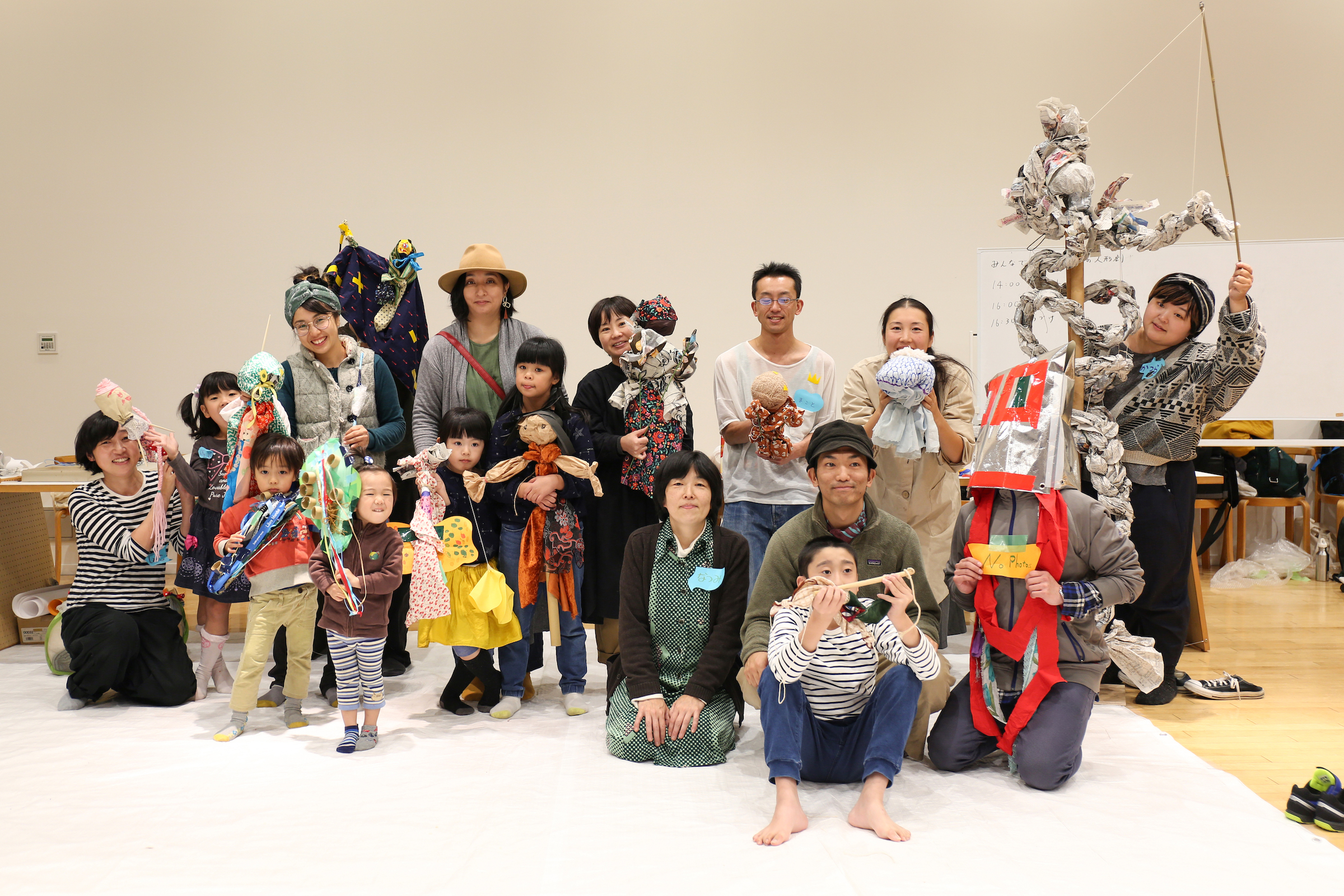 Able Art Japan's project, "SHIRO Atelier&Studio: Making Art Theatre Together", was selected as a featured project by Sendai-city Culture Programme. © ABLE ART JAPAN 2020
"Music (art) is powerless." Immediately after the Great East Japan Earthquake, the world-famous conductor Yutaka Sado lamented. After the earthquake, not only in the disaster affected areas but also in the rest of Japan, artistic activities were treated as something to be refrained from during this time of mourning because of its flamboyance. However, as the recovery efforts gradually began, many artists started to support the people affected through their art, including music, paintings, dance, and other artistic performances. In the disaster affected areas, music gave the people courage, the colorful pictures gave them hope, and by performing together, people were energized. We were starting to see how people could stand up for recovery through art.
I witnessed how art has the power to support people's self-esteem and autonomy, and that art encourages people to move forward. Indeed, art fosters people's power to live. Art is often talked about as something that represents a person's inner perspective such as aesthetics and sensitivity, but it also has a robustness to it and can be something that is full of outward energy.
Since the first half of the 1990s, Able Art Japan has been advocating for the Able Art Movement, which promotes the artistic endeavors among people with disabilities, and has been developing activities to rediscover the possibilities of art and human beings. They also run galleries, art appreciation support programs, and ateliers where anyone with or without disabilities can participate in artistic activities.
I interviewed Shoko Nakatsuka of Able Art's Tokyo office and Mitomu Sakabe of their Tohoku office (in Sendai City, Miyagi Prefecture) about art as an occupation for people with disabilities. When she was a student, Ms. Nakatsuka came across the artwork of people with disabilities, which propelled her to join Able Art Japan after having worked in the field of architecture design. Mr. Sakabe majored in special education in college and is also a street performer.
Businesses also using artworks of people with disabilities
In the past, creative activities among people with disabilities were often for the sake of people having something worthwhile to look forward to in life (or ikigai in Japanese), rehabilitating their brain functions, and creating products for sale within the social welfare system to support their economic independence. Recently, however, some of their art is recognized as a new style of expression that goes beyond the realm of welfare, and are being adopted as products and for advertisements by businesses. The intuitively-created art of people with disabilities may contain vibrant colors and distinctive expressions that are not bound by existing concepts, and they are appreciated as a testament to the essence of art as something that emerges from the freedom of the heart.
Able Art Japan co-established the Able Art Company (hereafter referred to as the Company) in 2007 with two nonprofit organizations: Tanpopo-No-Ie (in Nara Prefecture) and Maru (in Fukuoka Prefecture). The Company's aim is in creating an enabling environment where people with disabilities can engage in art as a job, and it serves as a bridge by matching people with disabilities with businesses that are looking for artwork.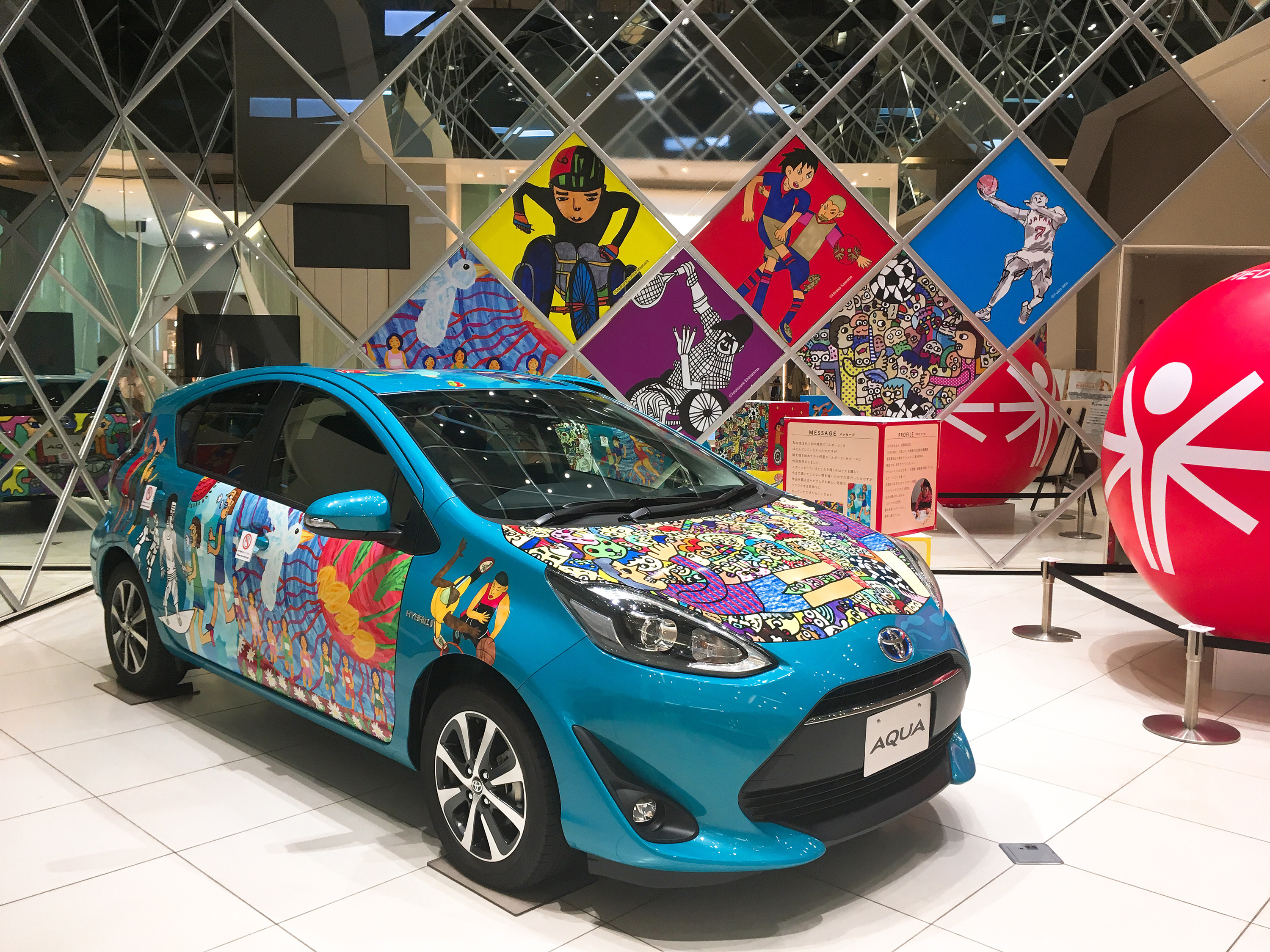 AbleArt×TOYOTA Initiatives © ABLE ART JAPAN 2020
Working as a professional artist
Artists with disabilities have an opportunity to affiliate with the Company once every two years. The artists themselves register their profiles and portfolios, and can begin working as Company Artists. Currently, there are 113 Company Artists registered in 28 prefectures across Japan. Over 13,000 artworks have been produced by these artists with disabilities.
The Company converts their artworks into digital contents and sells them to businesses that want to use them; the artists then get royalties. The Company promotes these artists through publicizing information and organizing events so as to form ongoing partnerships with businesses. In addition to acting as a bridge, the Company also provides the artists with emotional support to help them feel safe in the process of their artistic activities.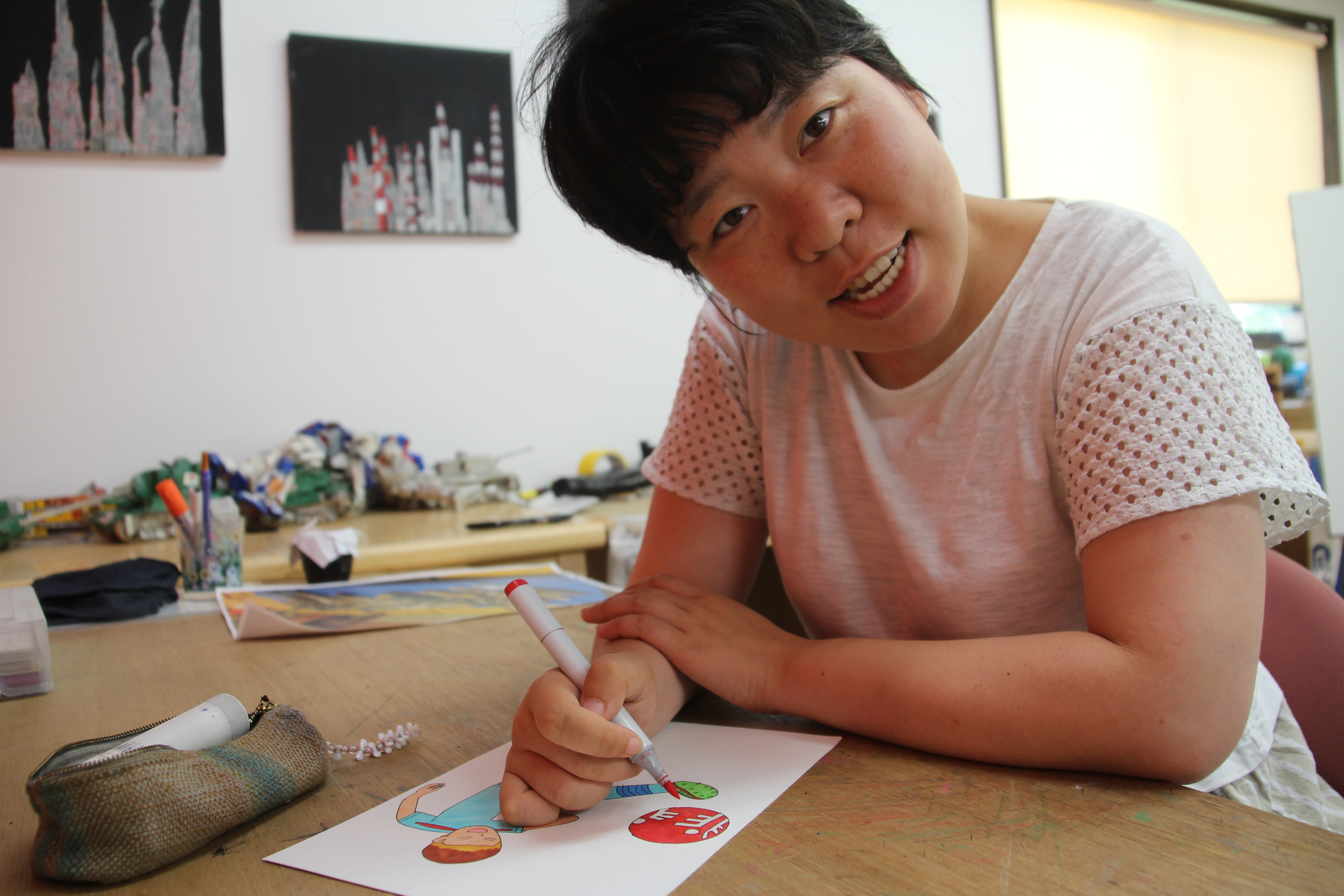 A company artist creating her work for a company's request  © ABLE ART JAPAN 2020
Meeting someone new through art and connecting with society
Most of these artists work regularly at workplaces for people with disabilities in the welfare system, and live on wages they earn through these workplaces, in addition to receiving their disability pension. The artist work is only for surplus income, just like a corporate employee who has a side job.
Ms. Nakatsuka explains, "They don't make a living by being an artist alone. But the significance is in being able to meet someone new and in connecting with society. It's energizing for our artists when they get to know the new sides of their own selves through creating art, and when their artworks are recognized by other people."
Many of them have a limited number of people they interact with on a regular basis, such as family members, people in their welfare or work facilities, and peers with the same disabilities. Some people never leave the home when they are creating their artwork. However, they can grow when they engage with society through their artwork. That's what's meaningful for them as well as for their families.
In Sendai, they receive some requests from businesses based in the Tohoku region (where Sendai is), and sometimes these businesses specifically request artwork by artists living in a particular city. Mr. Sakabe says, "When our artists promote their own names and faces along with their artwork, and when their work is chosen by clients, it not only means their artistic skills are properly conveyed, but they also get to know someone new and provide something of value. Some of our artists even hold autograph sessions!"
Helping people with disabilities face their art in a safe environment
"It's not always good for our artists to have a lot of art work to do," warns Ms. Nakatsuka. "They can be so happy and try so hard that they lose their balance in their lives and minds. Working for a brand they love can be nerve-wracking. Many people with disabilities are not good at controlling their own mental health, so it is important to take a close look at each person's characteristics and try to keep pace with them."
Mr. Nakatsuka added, "Art can be a useful filter for people who have a hard time living their lives due to the fact that they are not able to do what an average person takes for granted. For example, let's say someone obsessively collects empty medicine packaging (pharmaceutical blister packs). That may seem unusual, but their collection can turn out to be an interesting form of art. It's through the filter of art that all the rest of us are able to see how people's differences are to be appreciated."
We all live multifaceted lives. While art itself has the power to transform the person creating art, when we use art as a medium to recognize each of our multifaceted selves and differences and to connect with society, it is then that we are able to seek our own potentials, whether we have disabilities or not.
Calling something a "disability art"
When you look at art that is considered "disability art" or art created by people with disabilities, there is not really anything that clearly distinguishes the presence or absence of a disability in the artist. Then, why embellish their work as "disability" art to begin with?
In the "Basic Plan for the Promotion of Cultural and Artistic Activities by Persons with Disabilities" released by the Ministry of Education, Culture, Sports, Science and Technology (MEXT) and the Ministry of Health, Labour and Welfare (MHLW) of Japan in 2019, they referred to this exact matter. The Plan says, "It is necessary to keep the concern in mind that when cultural and artistic activities by persons with disabilities are promoted, it may strengthen the impression among the public that there is a special classification and framework of 'cultural and artistic activities by persons with disabilities,' hence inadvertently and unnecessarily separating their activities from other cultural and artistic activities."
This is why Able Art Company uses the term "Company Artists" instead of using the term "disabled artists." However, if a business partner requests, they may use the terms disability or disabled to describe the artwork they purchased. In fact, in our society, it may be helpful to use certain words often on purpose, as it lets more people know who would have been otherwise unaware. When terms like disability or disabled are used with intentionality, it can be an encouragement for people with disabilities to think, "It's all right for me to expose myself to the world, too."
Financial sustainability of support groups as the biggest challenge
Mr. Sakabe describes the challenges organizations like theirs face. "Intermediary support groups such as Able Art tend to operate as a series of single-year projects, receiving funding from grants and other limited-term sources. The challenge is to ensure continuity. There is also a need to develop human resources so that each welfare organization can carry out consultation support services and project planning independently." Able Art's Tohoku office, for which Mr. Sakabe works, is also in charge of managing the Arts Activity Support Center for Persons with Disabilities.
The disability arts movement is still at the grassroots level and lacks various kinds of resources. Could businesses consider providing human resource development and management support to these organizations as part of their CSV activities and ESG investments? We of course have great expectations for businesses to include these artists' work as novelty items for events or as part of the design of a company's own products, especially given the extent of their influence in society, but it will be helpful to have businesses engaged in other ways, too.
Engaging with people and society through art
Ms. Nakatsuka discussed the future of Able Art. "I want to provide a place where people with and without disabilities can explore their potentials through art. Both we and our business partners learn from each other when we interact. In this sense, whether you are an individual or an organization, I hope you can enjoy learning from and finding out something new from each other, rather than thinking in terms of whether you would support their art or not. We would like our organization to be a platform where people willing to commit can freely get involved in the management. So, we want people to come and visit us, starting with just a simple curiosity; come as if you were to enjoy a cup of tea to chat with us!"
And Mr. Sakabe stressed the importance of the arts again. "I want to change the situations for people with disabilities having a difficult time with social institutions, communication, and other areas of life where they are disadvantaged due to something that is not at their fault. In principle, we should support people according to each person's values, but support for people with disabilities tends to become a training for them to accommodate to life according to the norms of the majority in society. Given these limitations, art can be especially effective in affirming each person's personal values."
The living force that art has for people with disabilities allows them an opportunity to find their own potential, engage with people and society through art, and to be value-creators. In order for them to access this power, it is true that it is important that people with disabilities are supported through having obstacles that stand in their way removed. But it is just as important that we form relationships that could enhance mutual learnings and respect.
The aforementioned "Basic Plan for the Promotion of Cultural and Artistic Activities by Persons with Disabilities" was formulated in 2019 is effective for three years for now. It contains a lot of excellent measures if everything included can be realized. However, considering the reality that we have not yet reached a barrier-free society, where the everyday physical barriers people with disabilities face are removed, it would be difficult to expect advancements in the arts before the more pressing physical needs are met. Still, the plan can bear fruit if continued support can be provided for the organizations that support artists with disabilities, and awareness-raising efforts and outreach can be made toward businesses and the general public. Let us be hopeful that this plan is not just a temporary effort on the heels of the Olympic and Paralympic Games, but that it will proceed surely and securely.
——————–
February 21, 2020
Original text by Yuko Watanabe (JNPOC's volunteer writer); translated by JNPOC
---
---