---
Posted on October 01, 2015
---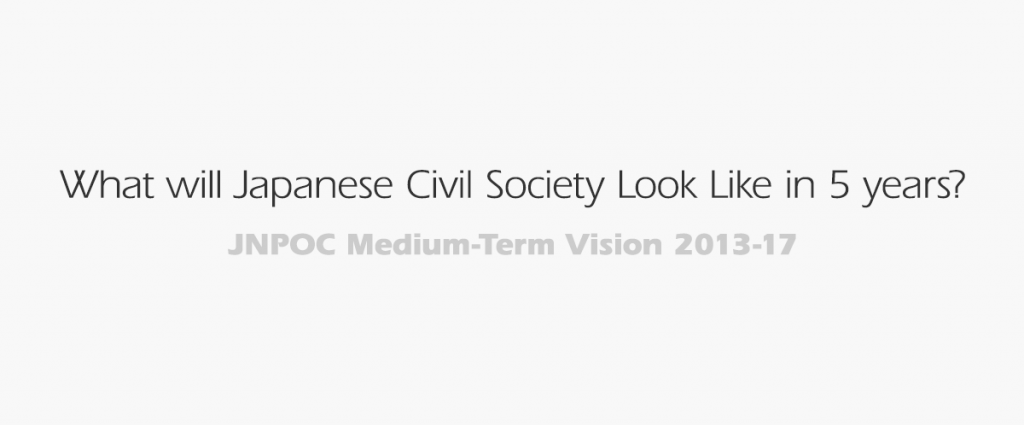 Introduction
What is a "vision"?
To answer this question, let us look at what the representatives from the Cleveland Foundation, which was founded as the world's first community foundation, showed us when they were visiting Japan:
Vision is having an acute sense of the possible. It is seeing what others don't see. And when those with similar vision are drawn together, something extraordinary occurs.
In other words, we can only make "something extraordinary" happen by holding up a vision that we can share with the world, which we may not be able to see at the moment, but for which we are earnestly searching.
Since our founding in the fall of 1996, Japan NPO Center had made continuous efforts towards the enactment of legislation to promote citizens' activities. Our efforts had culminated in the passing of the Act on Promotion of Specified Non-profit Activities in 1998. This is why we have been working relatively more often with "specified nonprofit corporations" (or the so-called "NPO corporations") than other types of non-profit entities.
However, after the Public Interest Corporation System Reform in 2008, there were many public interest corporations – including "public interest associations" and "public interest foundations" – founded that were highly independent from the government. Also, in the wake of the Great East Japan Earthquake of 2011, numerous "general associations" have sprung up, making the most of the fact that they can be established in a short period of time, and have engaged in civic activities. Co-operative unions, with their longstanding history and large membership, have been exploring new challenges, and among Buddhist circles, which may well be called Japan's premier nonprofit organizations, and other religious groups, more denominations have become proactive in taking up social causes.
When we look at activities of nonprofit groups, we see various innovative styles of action among them. This may include organizations that have creatively thought out their programming using volunteers, organizations that carry out their activities with contributions from many donors, or organizations that adapt business strategies and implement new systems into social reform.
Furthermore, we have found reassuring partners in the project of revitalizing civic activities nationwide. Some of our partners are corporations that have gained high levels of respect from their clients for engaging earnestly in corporate citizenship activities, being vigilant in ensuring that their CSR (corporate social responsibility) principles permeate throughout their business, and being proactive in fair business practices and information disclosure. Our other partners are local governments that regard their citizens not merely as inexpensive human resources but as pro-active main actors in local autonomous governance, and use citizen participation as a way of tackling community issues. Finally, our partners also include elected officials who serve as pipelines between citizens and their government.
In the paragraphs below, we will share the goals and visions of the Japan NPO Center through our outlook on Japan five years from now.
This vision is in response to the report by the "Task Force on Thinking about Japan NPO Center's Future,"1 which was established by the organization's board and council members in 2010. This vision was drafted by the Chairperson of the Board of Directors and the staff, and has gone through discussions within the Board of Directors and the Board of Councilors. In order to realize this vision, we are determined to carry on our work in cooperation with our many friends and partners.
What Japan NPO Center Strives to Be in Five Years
(1) Imagining How Japanese Society Will Look Five Years from Now
First, in order to draw out our medium-term visions, let us imagine what Japanese society may look like in five years. In the quickly changing modern world that we live in, it is not easy to imagine how society will be in five years, but let us list some projections based on current trends:
As Japanese society continues to experience aging of the population, there will be an increase in the number of people in need of caregiving and in the number of deaths. Especially given the fact that baby-boomers will be 70 or older, there will be a rapid increase in the so-called "old-old," or the eldest of the elderly population who have a higher rate of developing dementia. Caregiving costs will certainly rise across society.
In addition to the graying of the population, non-marriage and divorce rates have both risen, and there is an increase in the number of single-person households. Some studies estimate the coming of the so-called "2030 Problem," which says that the rate of lifetime non-married singles among the population will surpass 25% by 2030. In the past, many people had expanded their ties to the local community through children, but this path will become less and less functional.
Government had been the primary problem-solving agent when it came to social problems. However, with non-discretionary expenditure, such as social assistance expenses and government bond expenses, increasing, public spending will continue to be squeezed and government's role in solving social problems must diminish in the medium and long term. Moreover, the government bond interest payment, which already surpasses 1.1 billion yen per hour, is at risk of skyrocketing once the current ultra-low interest rates come to an end, and there is concern that national finance could collapse as a result of bond interest payments.
With finances being strained, more and more local government-nonprofit collaborative measures are to be expected in a wide variety of areas. When these do take place, it is vital that they go beyond simple financial countermeasures and also serve as measures to develop autonomous powers among the citizens. Indeed, local residents are not simply "customers" of the local government but the rightful "bearer of local autonomy and self-governance."
Interest in CSR has grown, and as evident by the spread of cause-related marketing, more and more consumers value "empathy" in their consumption. To respond to this, corporations will become increasingly active in developing social responsibility in their corporate activities. In engaging in these activities, many corporations partner up with nonprofits, and, as both are "private" entities, we expect to see more and more of these collaborations. Furthermore, thanks to the actions of nonprofits serving as watchdogs for bluewashing and greenwashing2, there will be widespread movement to value corporations that are truly engaging in just CSR activities.
Long-term labor shortage is expected, and the population of non-Japanese residents is on the increase.3 There is a possibility that the Japanese government will introduce policies to accept immigrants. There are many nonprofits that embody diverse values and cultures, and they serve as important leaders in constructing a multicultural society.
On the other hand, in conjunction with relative decline in national power, we have seen a rise in nationalism. Especially as international relations within East Asia are facing a new phase that requires more coordination, it is highly likely that we will continue to have unstable relations within the region. Civil society has an increasingly invaluable role in establishing networks across national borders by linking people together through empathy, and in weaving amicable and cooperative relationships among citizens, so that nationalism can be overcome in this day and age of intolerance, and a bridge of trust can be built with the world community, all the while respecting cultures and traditions within Japanese society.
In the future, it will be a vital task to create new types of communities where people can support each other. There will be heightened interest in voluntary formation of community groups, which may also be called theme-based community organizations. Such organizations promote relationship-building based on inclusivity – of diverse people, lifestyles, and values. One of their tasks will be to build bridges with community organizations that are based on local ties and were founded by people who live close to one another.
Due to trends such as the ones we have overviewed above, there has been increased interest in giving donations and participating in volunteer activities since the Great East Japan Earthquake, according to the National Survey of Lifestyle Preferences. At the same time, however, we find that 41% of specified nonprofit corporations have no volunteers supporting their programmed activities, and 51% have had no donations, according to the survey by the Cabinet Office in 2012. These two survey results indicate that there is a huge discrepancy between attitudes among citizens and the capacities of nonprofits to accept donations and volunteers.
Donations, volunteering, setting up nonprofit organizations, and expanding socially conscious consumption all lead to the promotion of "citizen participation" in solving social problems. This means that a sense of ownership of social problems will be fostered among citizens.
We are at a time in history when the nonprofit tax support system has been amended, and the rate of increase in the number of "certified NPO corporations" (for which taxpayers can claim tax deductions for donations) is picking up speed. We have also seen trends to professionalize staff so that they can better promote citizen participation, such as in the creation of the Volunteer Coordination Abilities Certificate or the Certified Fundraiser, and new community funds are springing up everywhere. It is possible that a dormant account fund4 will be created, too. All in all, infrastructure to support socially-oriented private programs is expected to be gradually set in place. Meanwhile, diverse support organizations such as those with specialized skills have been founded, and more and more competition has arisen as a result, but more collaboration could come out of this trend as well.
Multiple stakeholder processes have begun to take place in various places across the nation. These are sometimes referred to as "Roundtable Discussions," and stakeholders with various standpoints engage in dialogue and take action in order to solve problems in society. In being less reliant on national or local government entities, and by autonomously tackling problems through independent action, intermediary support organizations may have a new role in setting up and coordinating the process.
(2) Japan NPO Center's Mission
As a national infrastructure organization for the private nonprofit sector, our mission is to strengthen the social, political and economic support base for voluntary nonprofit organizations in Japan, and build new and innovative forms of partnership with the government and the private sector, encouraging them to act as co-creators of robust civil society.
(3) What Individual Nonprofits Should Aspire To Be In Five Years
In the following section, we will list the characteristics that individual nonprofits should change about themselves and what they will ideally change into, based on the previous discussion of what Japanese society may look like in five years.
1. An ideal nonprofit takes root in society and has earned trust [TRUST]
An ideal nonprofit will have its activities valued, while, at the same time, creating an environment where it can take root in society as a trustworthy organization. Additionally, by collaborating domestically and internationally with other nonprofits, it will be able to establish an environment in which the entire civil society sector can gain trust.
2. An ideal nonprofit expands to respond to problems that are difficult for other sectors to handle [PIONEER]
Not content just to complement efforts by government and corporate sectors, more and more nonprofits are independently (and proactively) tackling local problems (or needs), which they examine from points of view that may be unique to nonprofits.
3. An ideal nonprofit establishes means to diversify funding sources [AUTONOMY]
In order to establish itself as a sustainable organization and to engage in continuous initiatives, each nonprofit diversifies its funding sources while, at the same time, making it possible to securely operate the organization by expanding the proportion of its own funding sources.
4. An ideal nonprofit's initiatives are considered vital to local life and take root in the local community [LOCALITY]
In conjunction with the promotion of local autonomy, more opportunities for citizen social participation should be created through the activities of private nonprofit organizations actively expanding the efforts of all citizens in the local community.
5. An ideal nonprofit promotes and establishes multiple stakeholder processes [COLLABORATION]
In order to increase opportunities to find new solutions to local problems, collaborative efforts with various actors participating, including locally-based organizations, will be promoted. At the same time, methods of autonomous operation, where rules are created by everybody involved, will be popularized.
6. An ideal nonprofit expands its power to disseminate messages to society [SOCIAL CHANGE]
Each organization goes beyond promoting its routine programs, and always maintains an awareness of social issues; this leads to the spread of propositions to society on new systems or social values.
(4) Japan NPO Center's Responses to What Society Will Look Like in Five Years
To solve the problems that have been listed in our projection of what society may look like in five years, and to actualize how an ideal nonprofit should behave in this given time, we, the Japan NPO Center, have determined our role to be as follows:
1. Enhancing various means to develop human resources
In order to broaden the leadership and staff base of nonprofits, we will recruit and involve new talent, while striving to cultivate people who have the "NPO spirit" (with awareness of citizens' movements and social change) at the same time.
2. Strengthening collaborations with various local communities
We will actively gather information on local communities, organize it, and disseminate it nationwide.
By sharing information on each local initiative to the rest of the nation, we will contribute to the revitalization of local nonprofits.
3. Strengthening collaboration with local NPO support centers
Through collaboration with local NPO support centers, we will implement programs that are needed in each local community. We will also strive to clarify the position of support centers.
4. Enhancing research studies and strengthening policy proposals
We will promote research studies based on empirical knowledge, and establish a system for translating their results into policy proposals and new programs. We will explore collaboration with universities and research institutions as well.
5. Strengthening collaboration with overseas nonprofits
As globalization proceeds, we will not stick to solving domestic problems, but will actively participate in efforts to tackle global level problems and exchange related information with nonprofits within and outside Japan.
6. Strengthening dissemination of information through the media
We will actively engage in further utilization of existing media, while giving consideration to collaboratively developing our unique medium.
Policy on Organizational Structure Based on Ideas about Our Organization Five Years from Now
(1) Establishing secure employment systems and staff development opportunities for staff members
Establishing a work environment where staff members can work with reassurance

Revising rules of employment: 65-year-old retirement age, revisions to various benefits
Creating rules related to employment: revising rules of pay, establishing wage increase system

Implementing training based on years of experience and encouraging voluntary training

Establishing systems of training (OJT, external training, etc)
Covering costs for certifications and research at postgraduate institutions

Considering various forms of employment

Implementing flexible employment, such as hiring temporary staff for time-limited projects
Exploring non-wage employment such as the internship system
(2) Establishing systems for secure funding sources and increasing the percentage of self-funding
Estimate of revenue for the next five years
Expansion of self-funding sources

As the disaster recovery related programs are coming to an end, it is urgent that we secure our own funding sources.

Expansion of for-profit programs

While continuing to improve the environment for nonprofit activities, we will consider and implement programs that will help increase profit for the Center, such as in the case of TechSoup.

Expansion of membership dues and donations as secure sources of funding

As a result of the expansion of our program size, we will actively seek out membership dues and donations, which are the funding sources that support our organization. This will allow for an increase in the proportion of self-funding. Also, we will set up systems for automatic deductions and credit card payments.

Considering the creation of support systems for non-members

Moving (Expanding) the office as a result of organizational expansion
(3) General affairs and personnel
Review and improvement of various rules and regulations (e.g. rules of employment, accounting rules, etc)
(4) Corporate administration
As the first term of certification as a Certified NPO Corporation comes to an end in 2016, we will apply for recertification.
To commemorate the twentieth anniversary in 2016, we will set up a memorial fund, and plan and execute memorial programs.
---
---