---
Posted on April 06, 2016
by Bob Stilger
---
How Do We Build The Communities We Want, Together?
The destruction caused by the Triple Disaster of March 11, 2011 was overwhelming. For some, everything they knew was taken away. What comes next? The past is gone. The future is uncertain. How do we build new lives?
Government cannot answer these questions. Government can rebuild what was here before, but what else is possible? What kind of future do we want? How do we build healthy and resilient communities which sustain and nourish our lives? 
The articles in this series explore how people in Tohoku are supporting each other to make a new future, together.
Finding our first steps to rebuild communities
How do any of us find the courage to follow our hearts? Why is it important? When we hear that voice: this is where you can make a difference, how do we respond? For the last five years it has been my privilege to work alongside people who stepped forward to help communities in the Tohoku region of Japan build a new future, together.
Perhaps you remember back to March of 2011 when the earth shook violently from a 9.0 Earthquake. In Tohoku roads and railways twisted like noodles as buildings fell apart; in Tokyo buildings swayed like trees in the wind. Then 40 minutes later a tsunami swept the coast – waves 20 meters high traveling at 100 km/hour. The next day the nuclear reactors started to explode in Fukushima. 500,000 people lost their jobs or homes or both. 20,000 people lost their lives.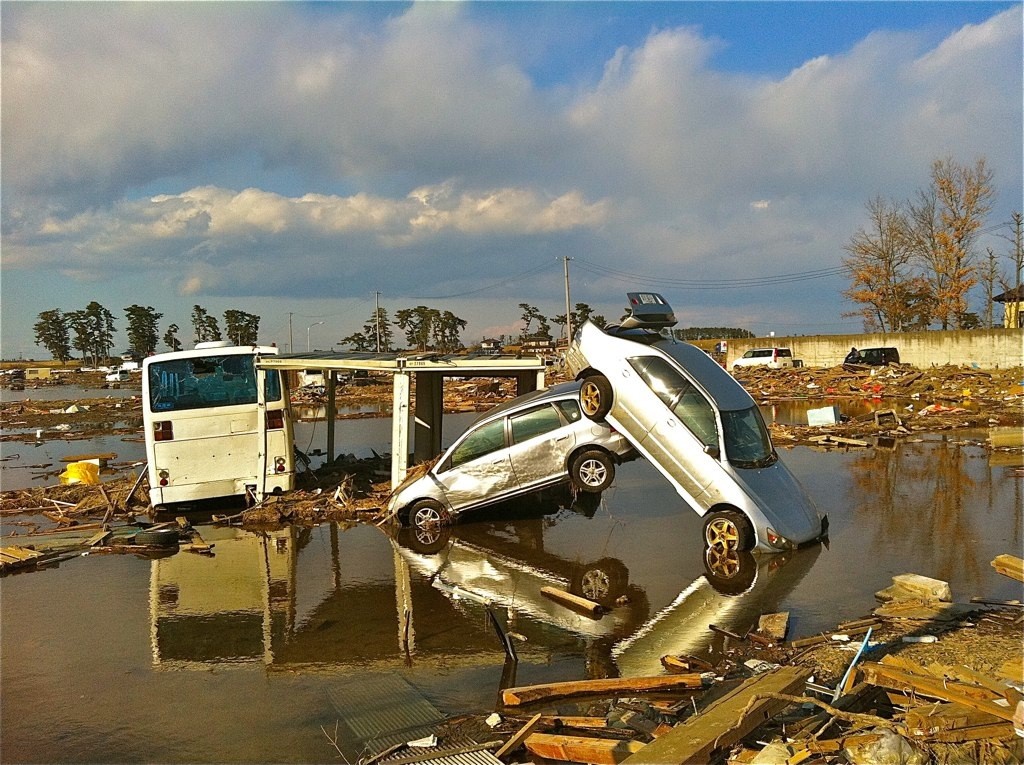 Watari-chou, Miyagi after the Great East Japan Earthquake in 2011 Photo by Seiji Imai
The destruction was overwhelming. Government could help with rescue and emergency assistance and eventually with rebuilding. But it was too big for government alone. Individual citizens knew they had to step forward and help. Individual citizens knew they had to offer their strength, their insights, their dreams and their voices to build a new future together. They heard that voice: this is where you can make a difference, but where and how to begin?
They turned to each other. They talked. They listened. They found a place to start. In the beginning the work was very clear — provide food and shelter for the survivors and start to clean up the mess. Then it became more complicated. Where to rebuild, what to rebuild, how to rebuild. How much of the past do we try to keep and what else is possible now?
We build community together, with each other
I've had the deep privilege to know and work with many of these ordinary people. They did not have a position or status which gave them authority to do what they did. They worked because it was necessary and they worked together. I heard people talking more about happiness; I watched them welcome outsiders. I saw more people standing up for what's important to them and reaching out to those younger and older who were needed to build a new future.
People started talking to each other and listening to each other. It didn't matter if they're strangers or if their families have been having a feud for generations. It wasn't that important if you have lived in a community all your long life or if you just arrived last month. People knew they had to work together to create a new future.
Easier said than done sometimes!
How do we really listen to each other? How do we speak our own truths? How do we confront the unknown and find a new way forward? It takes a special 場(ba – a welcoming space) where people arrive with curiosity, respect and generosity. Curious about the ideas and knowledge of others. Respectful towards everyone who arrives. Generous with their own time and experience. That kind of a 場 is where people find the courage to follow their hearts.
But who creates this kind of 場?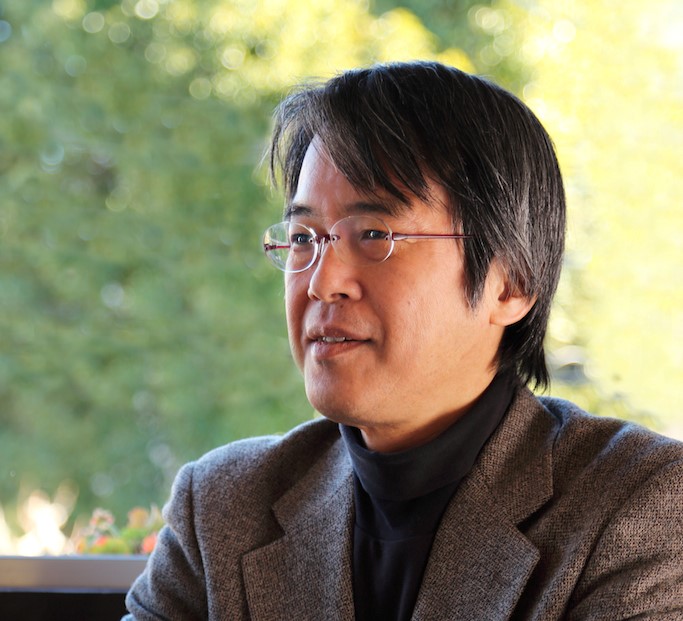 I met Iwai Hideki in 2010. He was a Senior Vice President for Tokio Marine&Nichido Systems Co., Ltd. and he knew that many changes were needed in the company to allow it to provide the best possible service. He also knew that the people in the company themselves needed to see how to create new opportunities and to solve old problems. But there was no way they could bring their knowledge together to create innovation. Iwai-san heard about a work being done in Europe to create a space – a Future Center – to give birth to dialog and innovation and he was part of the first exploration to Europe to see new possibilities. He created one of the very first business Future Centers in Japan in 2010 and started to see the deep power of dialog.
Like so many others, Iwai-san watched helplessly as the countless images of destruction came through on television broadcasts. He felt overwhelmed, he said, by the horrible conditions in the disaster area. By looking at the images, I felt I wanted to do something for Tohoku, but I was working with Tokio Marine at the time. The company's employees, including myself, were doing their best to pay out insurance claims as quickly as possible to support the disaster victims. We were taking turns, even during the weekends and holidays, to answer phone calls from the disaster area. There were also people who were not insured and it was so hard to tell people we could not pay them. I was feeling regretful because in my mind, I had this desire to do something, but there was also the work of the company I had to do. Day after day I kept holding this sense of guilt.
By the summer of 2011, Iwai-san found a way to spend more and more time as a volunteer supporter of JEN, an NPO working in Ishinomaki. By 2012 he had left his job at Tokio Marine to concentrate completely on Tohoku. This region was different than his hometown in Kyushu, but he was familiar with some of the patterns of rural life. In the beginning, he said, people just worked together to do whatever was needed. Jealousies and old fights and fears were just put away. But as things got more stabilized, people started look at those they didn't know well with less trust and openness. People started to isolate in the silos of the particular issues they care about most, or they started paying more attention to the needs of the funders than the needs of the community. Iwai-san knew something more was needed.
So he just found places and ways to show up to help. He listened a lot. He started explaining Future Centers to people. It's nothing fancy, he said, but there are ways we can work better together. So he interviewed people about their ideas and concerns and then held meetings to ask them help him understand what the interviews were telling us. He introduced people to different ways of having dialog – world café, open space technology, circle, appreciative inquiry, transformative scenario planning and others.
But mostly what he did was he persevered. He kept coming back, time and time again. He built trust with his own integrity. It just takes time to build resilient communities. By 2013, he created a new NPO – Kohaku – to serve as his base of operation. Of course, money was scarce. Iwai-san had to do consulting work to pay the bills for his own family, raise money to support Kohaku, and do the Future Center work itself. Exhausting. It takes perseverance.
About the writer
Bob Stilger, PhD
Bob first came to Japan as a college student at Waseda University in 1970 and began to develop a deep love for the Japanese culture. He has worked all over the world to help people build healthy and resilient communities. He teaches about leadership and dialog in colleges and universities as well as through workshops and public events. After the Triple Disasters he came to Japan to help people listen to each other and speak their truth so that they could build a new future, together. He helped start the FutureSession movement in Japan and is the author of 未来が見えなくなったとき、僕たちは何を語ればいいのだろう――震災後日本の「コミュニティ再生」への挑戦 (When We Cannot See the Future, Where Do we Begin? Finding Hope and Rebuilding Communities in Post-Disaster Japan) published in June, 2015 by Eiji Press. English edition coming in 2016! He is the founder and Co-President of NewStories, a US based nonprofit that works with people and communities around the world.
---
---