---
Posted on November 17, 2023
---
JNPOC publishes a quarterly organizational publication called
NPO no Hiroba
for its members. Each issue carries an interview with a prominent figure related to the Japanese nonprofit sector and civil society. For our English website, we pick some interviews and translate the summary for our readers.
The year, 2023, is the 25th anniversary of the enactment of the NPO Law and the first year of the post-pandemic New Normal; each issue of this year's NPO no Hiroba delves into the current challenges facing Japanese NPOs and the efforts for regulatory compliance.
The following article is the translated summary of the feature articles that appeared in the September 2023 issue (No.96).

---
Food loss is a major social issue in Japan. In 2021, 5.23 million tons of food was wasted. Although food banks have been attracting attention since the early 2000s as a solution to this problem, they were initially criticized strongly by people who believe that facing the consequences of having fallen into poverty must be a self-imposed responsibility.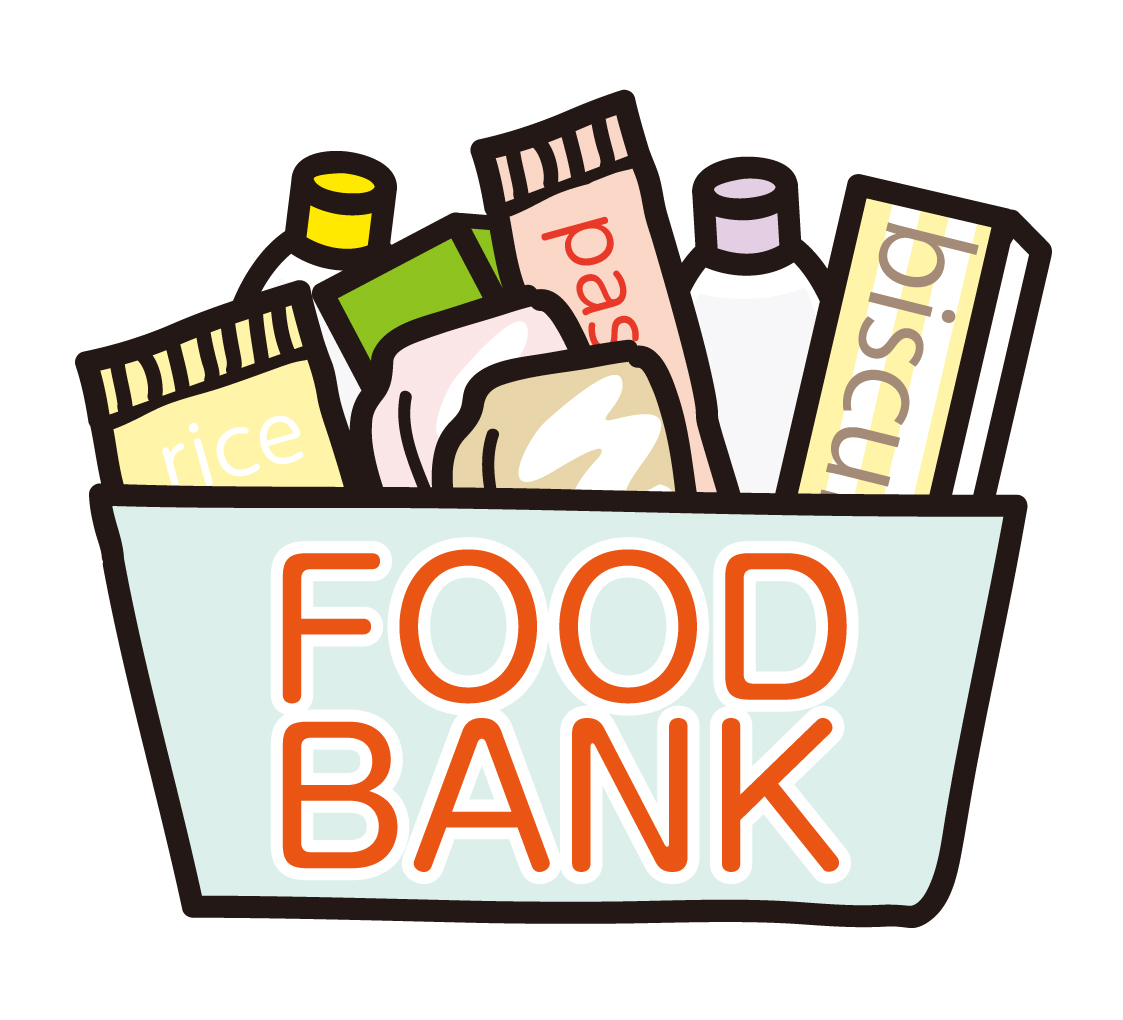 However, from the perspective of the SDGs, interest in the areas of food loss issues and food banks has further increased in recent years. In 2019, the Food Loss Reduction Promotion Act was enacted in Japan. This law stipulates support for food bank activities as a basic national policy and promotes the relationship between the national/local governments and food banks. On the other hand, the financial crisis of the late 2000s, the COVID pandemic, and the recent price hikes have created many poor and needy people and subsequently increased the number of food bank users in Japan. Most recently, this significant increase has created a situation where relief items are in short supply.
To better understand the current state of food bank activities in Japan, we interviewed several stakeholders. Our interviewees include the representative of a food bank in Kitakyushu City, persons in charge of sustainability initiatives at a major food company, and the representative of a national food bank support organization.
1. Creating a Healthy Future for Children through Food Support
Masaki Harada, President, Food Bank Kitakyushu Life Again
Launching a Food Bank
Mr. Harada has long been engaged in activities that aim at creating a society valuing all children; he was involved in the management of foster parent activities and neighborhood children's associations, as well as night patrols in Kitakyushu. To strengthen self-support activities for children from needy households to break the cycle of poverty, he started Food Bank Kitakyushu Life Again, in 2013.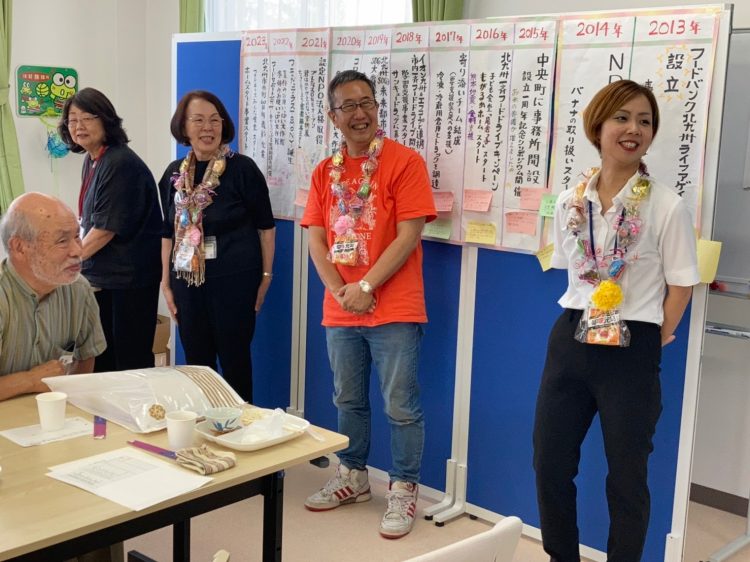 Mr. Harada, center, at Food Bank Kitakyushu Life Again's meeting
According to Mr. Harada, the significance of the food bank was still not well recognized back then, and every time he asked companies to donate food, they turned him down. However, in 2014, in collaboration with a local research institute (Fukuoka Research Commercialization Center for Recycling System), they started a research project on the need for a food bank, and the food bank operation gradually got off the ground.
Support from Many Companies
As the organization's food bank activities began to gain media coverage, many local businesses in the food and other industries began to support the organization. One local drugstore, 39 Drug, in particular, is now providing multifaceted support for Mr. Harada's food bank, including delivery, publicizing activities, and soliciting donations.
Operation Tummy Full Summer Break
Since 2020, Food Bank Kitakyushu Life Again has been conducting Operation Tummy Full Summer Break. During the school summer break (typically running from the end of July to the end of August), over 30 local companies donate boxes of rice, ramen noodles, ready-to-eat pouched curry, snacks, etc., to 1,000 households receiving child support allowance in Kitakyushu City. The cost of delivery is covered through crowdfunding. "We can carry out this activity thanks to the cooperation of the companies and the volunteers who work on the delivery. The interaction with the children is a great source of energy for us to continue our activities," said Mr. Harada.
Increased Demand During the Coronavirus Pandemic
During the pandemic, demand for Food Bank Kitakyushu Life Again's food assistance increased dramatically. The number of households served increased from 30 to 100 per month, and the number of subscribers to the organization's official mobile messaging app account grew from 300 to 1,800. The need for support has exceeded the organization's existing resources. Harada says, "We understood the need to strengthen our organizational capacity as well as send a strong message to the public outside of our organization to ask for their cooperation."
According to Mr. Harada, approximately 20,000 families in Kitakyushu City face difficulties such as inadequate education and isolation, and he hopes to reduce this number to zero in the future. "We want to spread our model throughout the country and bring hope to society with the smiles of children," he added.
2. Combining the Thoughts and Feelings of Each Employee into a Force for Greater Support
Ms. Maiko Yamashita, Manager of Planning Team, Sustainability Management Department, Meiji Holdings Co., Ltd. & Mr. Yusuke Masuko, Sustainability Management Department, Meiji Holdings Co., Ltd.
Meiji Holdings is the holding company for the Meiji Group, Japan's leading food and pharmaceutical group. The Meiji Group aims to realize "New Health Value" creation through innovation, and as part of its social contribution activities, the Group focuses on food donation activities to food banks nationwide. This activity has been conducted 12 times since April 2020, and the cumulative total of donated products has amounted to approximately 710,000 items. In addition, based on donations made by Meiji Group employees to the Meiji Happiness Fund, an in-house fundraising scheme, the Group also donates its products to the Kodomo Takushoku Ouen Dan (Group for Meal Delivery for Kids in Their Homes). "This is an activity in which employees participate voluntarily and casually. It could raise their awareness of sustainability issues," Ms. Yamashita explained.
Promoting Sustainability
The Meiji Group has created the Meiji Group Sustainability 2026 Vision as the group will celebrate the 110th anniversary of its foundation in 2026. The Group aims to solve social issues through its business activities with the following themes: Healthier Lives, caring for the Earth, and Thriving Communities. Furthermore, it is also working on Sustainable Sourcing that are common to all these themes. The Meiji Group has appointed a CSO, with the Sustainability Management Department under his control, to promote business activities and sustainability in an integrated manner.
Efforts to Reduce Food Losses
Based on the Food Loss Reduction Promotion Act, which went into effect in October 2019, the Meiji Group has been working on food loss reduction, changing the labeling of best-before dates on some of its products from daily to monthly, and extending best-before dates when they can confirm minimal effects on quality. In addition, "Through the industry association, we have encouraged major retailers to review the so-called 'one-third rule,' which is a commercial practice in Japan, and we are now moving toward the one-half rule," Mr. Masuko explained.
Food Loss and the One-Third Rule: The one-third rule is a business practice in which food companies refrain from delivering to distributors products that are more than one-third of the way through the period from the date of production to the best-before date. In Japan, as much as 5.23 million tons of food is discarded annually, equivalent to 1.2 times the annual amount of food aid to the world's famine-stricken people, and this practice is considered as one of the major culprits.
Employees Mull Over Solutions to Social Issues on Their Own
Meiji Holdings requests the nonprofits, who are the beneficiaries of its donations, to provide its employees with opportunities to learn about their activities online. "We have been working on a scheme that encourages each employee to voluntarily mull over solutions to social issues. We would like to continue working with the nonprofits," explained Ms. Yamashita.
3. Policy Advocacy Advances Food Bank Activities
Hiroaki Yoneyama, Chairperson, National Association for Promotion of Food Bank
National Association for Promotion of Food Bank aims to reduce food losses and to alleviate child poverty by solving the issues food banks face and making policy recommendations. Mr. Yoneyama had served as its Managing Director since its establishment and became the Chairperson in 2022.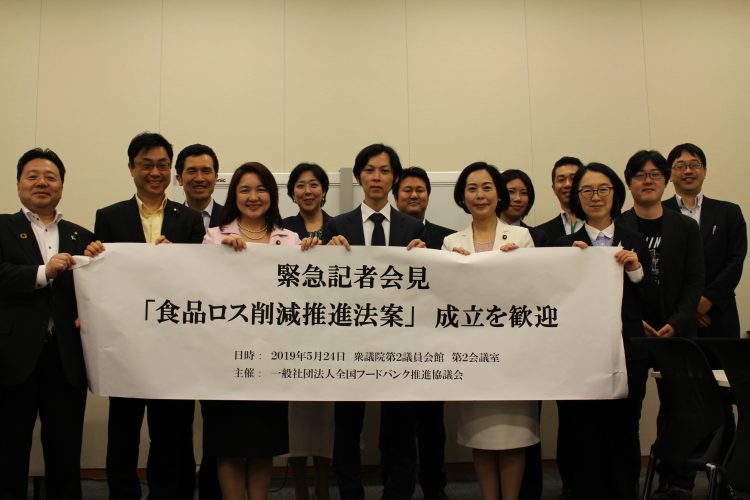 Mr. Yoneyama, center, at the celebration for establishment of Food Loss Reduction Promotion Act
Lobbying the Diet and the Government
Mr. Yoneyama had energetically lobbied the Diet for the Food Loss Reduction Promotion Act, which was enacted in 2019. "In 2018, I visited the offices of Diet members nearly 300 times and met with Diet members in person about 50 times. We also coordinated with the ruling and opposition parties on numerous occasions. I think I spent more than 30 days a year visiting Diet Members' Office Buildings," he recalled.
According to Mr. Yoneyama, awareness of the importance of food issues in the country is growing, and the roles of food banks are being increasingly revisited from the perspective of food security during non-emergency as well as food reserves in emergency situations. In 2022, he had the opportunity to directly exchange views with Prime Minister Kishida.
"Currently, Basic Act on Food, Agriculture and Rural Areas is under review. The discussion is on the establishment of a sustainable food supply infrastructure in response to growing food security risks, declining population, and carbon neutrality. I had the opportunity to speak at a meeting of the Council of the Ministry of Agriculture, Forestry, and Fisheries," explained Mr. Yoneyama.
Strengthening the Foundation of Food Banks
Mr. Yoneyama points out that there are six issues that food bank activities need to address: 1) further cooperation with the national and local authorities, 2) securing financial resources, 3) securing donated food, 4) cooperation among food bank organizations, 5) cooperation between food banks and children's cafeterias/food pantries, and 6) standardization of food hygiene management and distribution rules.
"The need for support is increasing, thus it is incumbent on the food banks to increase the amount of food handled. This requires strengthening the infrastructure of food bank organizations in terms of storage, transportation, and distribution capacity," he emphasized.
As a way to tackle the challenge, food banks that fit a new concept called core food banks have been recently established. These are organizations that accept food on a prefectural basis and distribute the food to local food banks. By establishing an organization with food storage and logistical capabilities, it is expected that the distribution of food from the community food banks to the final beneficiaries, such as children's cafeterias and pantry organizations, can be better facilitated.
"It is said that there are currently about 230 food bank organizations in Japan, but I believe that in the future we will need no less than 420 organizations in order to provide sufficient support to needy families. We believe there are 5 million potential families in need of assistance. Food banks are also playing a significant role in addressing the issue of loneliness and isolation, which is a major social issue, so we have a lot of work to do," Mr. Yoneyama commented on the future of food banks.
---
Original text by NPO no Hiroba editorial staff, originally published in September 2023; translated by JNPOC.
---
---