Message from the Chairperson
from JNPOC Annual Report 2017
Natsuko Hagiwara July 2018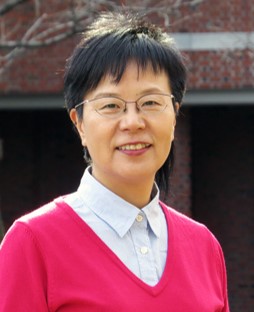 My name is Natsuko Hagiwara and I was appointed as Japan NPO Center's Chairperson at the Board of Directors' Meeting on July 3rd. I am taking the reins from Noboru Hayase (we are only a year apart in age), who put his heart and soul into running JNPOC for six years since 2012 and is a legend of the NPO world and volunteer world. He was preceded by the other NPO legends Yasuo Harima, Masako Hoshino, Tadashi Yamamoto (late), and Yoshinori Yamaoka.
When I was in my late 20s, I met Mr. Yoshinori Yamaoka, who was the program officer of the Toyota Foundation at that time. This meeting led me down the path of involvement in civic activity groups across Japan. Later, I got involved with JNPOC by becoming the Managing Director in July 2004 with Mr. Yamaoka as the Chairperson and becoming the Vice Chairperson in July 2012 with Mr. Hayase as the Chairperson.
2016 marked the 20th year since JNPOC was founded. This year, we have a new mid-term vision and have taken our first step towards promoting value creation for civic society. I wish I was lucky enough to play the rookie card, but I have no choice but to lead the team pursuit in this metaphorical long track speed race. I will put everything I have into this role and will make sure that we have something to hand off to our next generations. I thank you in advance for your support.
At the Board of Directors' Meeting on July 3rd, Makoto Oshima (reappointed) and Katsuji Imata were appointed as Vice Chairpersons, and Yoshifumi Tajiri was appointed as the Executive Director (previously a Special Director)
Together with the Vice Chairpersons, Executive Director, board members, staff members and all of you members, I hope to endeavor in the mission to enhance NPO infrastructures and strengthen civic society, based on the concept stated in JNPOC's mission statement at the time of its founding: To conceive of a civil society with diversity and individual autonomy. I thank you in advance for your support.
---
---