---
Posted on August 01, 2018
---
Placing Value Creation at the Heart of NPO Activities
Introduction
Placing value creation at the heart of NPO activities, the Japan NPO Center Mid-term Vision for 2018-2022, is the latest 5-year vision for the organization. While it is intended for Japan NPO Center's current members first and foremost (which include individuals, organizations, and corporations), we also hope to reach those who find significance in a diversity of nonprofit efforts as well as those who wish to support these activities in the future.
We are currently working on a five-year management plan that will fulfill this vision. This management plan, which will demonstrate exactly how we may implement activities in line with the vision, will be periodically revised during the time that we work towards the fulfillment of the vision.
Nonprofit organizations (NPOs) heighten awareness and perspectives on various problems in today's society, and they hold the power to lead us to solutions. Furthermore, NPOs present opportunities for people to get involved in the problem-solving process, and offer spaces for them to take a leading role in solving issues as citizens. It is our hope that those who sympathize with and support this mid-term vision will be proactively involved in carrying out these actions. We would also appreciate your active participation in Japan NPO Center's efforts. Join us in our endeavors so that we can welcome each of you as one of us!
Noboru Hayase
Chairperson, Board of Directors
June 2018
---
Read it with PDF file (550KB):  JNPOC Mid-Term Vision 2018-2022
---
Mid-Term Vision Map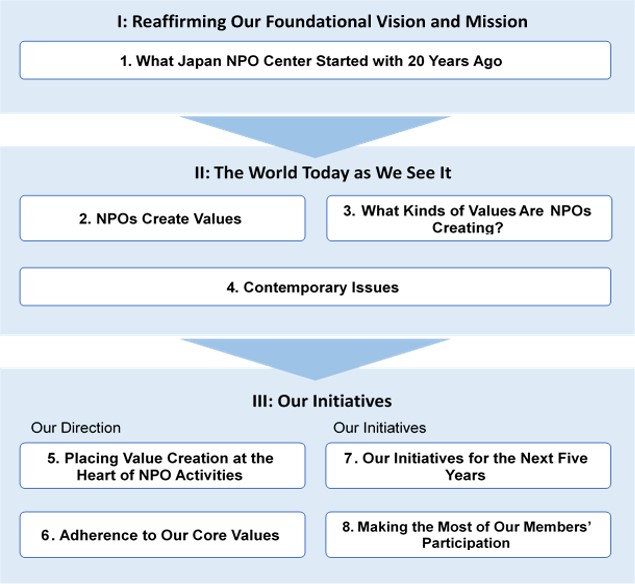 ---
JNPOC Mid-Term Vision 2018-2022: Table of Contents
Introduction
I: Reaffirming Our Foundational Vision and Mission
What Japan NPO Center Started with 20 Years Ago
II: What World Today as We See It
NPOs Create Values
What Kinds of Values Are NPOs Creating?
Contemporary Issues
III: Our Initiatives
Placing Value Creation at the Heart of NPO Activities
Adherence to Our Core Values
Our Initiatives for the Next 5 Years
Making the Most of Our Members' Participation
---
---