---
Posted on October 01, 2015
---
The Fukushima Daiichi Nuclear Power Plant is in Futaba Town, Fukushima Prefecture, and because of the accident there directly after the Great East Japan Earthquake, the people of Futaba were forced to leave their homes. Many were welcomed into Koriyama City (also in Fukushima), with 510 of them living there as of December 26, 2014.
Most of those who evacuated the disaster-stricken areas ended up in emergency temporary housing or vacant public housing facilities, or in pre-existing housing being leased privately. One of the major problems in these places is the difficulty of creating communities. In the case of temporary housing, the challenge is in how to form a community made up of people from several different ones. In the case of rental properties, however, the task is even more challenging: because the evacuees are separated from one another, many are unable to form communities. As stated above, theirs is an even more challenging situation than that of people living in temporary housing facilities.
This story introduces a community that has been created through a tenants' association launched amidst these difficult circumstances.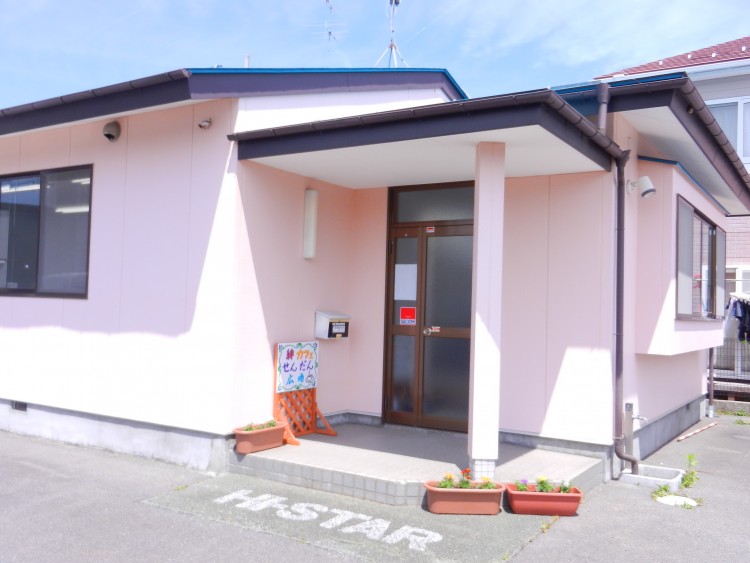 An opening ceremony alive with people's hopes and dreams
Sendan Hiroba opened in May 2013. It is a single-storied wooden building measuring 80 square meters, and it houses a multipurpose meeting room and a coffee nook. It is located at 2-71 Gozenminami, Koriyama City, about 15 minutes from the city center by car, and has ample space for parking.
The opening ceremony for Sendan Hiroba was well attended, including by the Futaba Town mayor (Izawa) and members of the town council. It was a grand event that expressed the hopes of the people of Futaba for Senden Hiroba to become a place for recreation, rest and exchange. The event was covered by the mass media and widely reported in newspapers and on television.
The name "Sendan Hiroba" comes from the saying "Great talent (sendan) shows itself from early childhood."
Activities of the tenants' association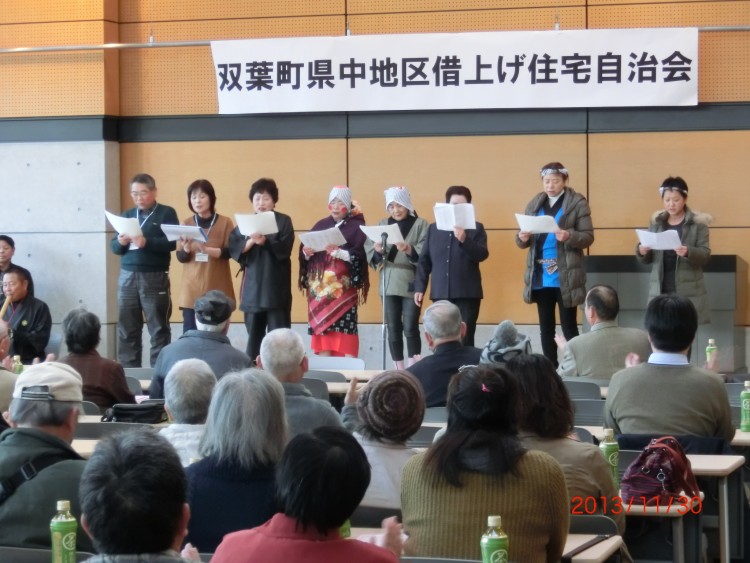 The Futaba Town Tenants' Association was launched in January 2012 by seven people who had been evacuated to Koriyama City and were living in rental properties (deemed temporary housing). Unlike the people living in actual temporary housing facilities, the people living in rental housing were not properly receiving information and relief supplies from the prefecture or town. The tenants' association, serving people in Koriyama City and areas nearby, was the first group formed for evacuees living in rented housing in the prefecture, after which others were launched both within Fukushima and beyond, including in Iwaki City, Fukushima City and Sendai City. The Futaba Town Tenants' Association was, in a way, a trailblazer.
The association currently has about 250 members representing about a hundred households, with regular monthly meetings held at the Fukushima Agricultural Technology Center and attended by about 60% of the member households. Responding to the needs of the evacuees, these meetings have featured presentations by TEPCO's compensation consultation center as well as talk-ins with the mayor. Seasonal entertainment such as Bon Festival dances and Christmas gatherings are also held.
Various events at Sendan Hiroba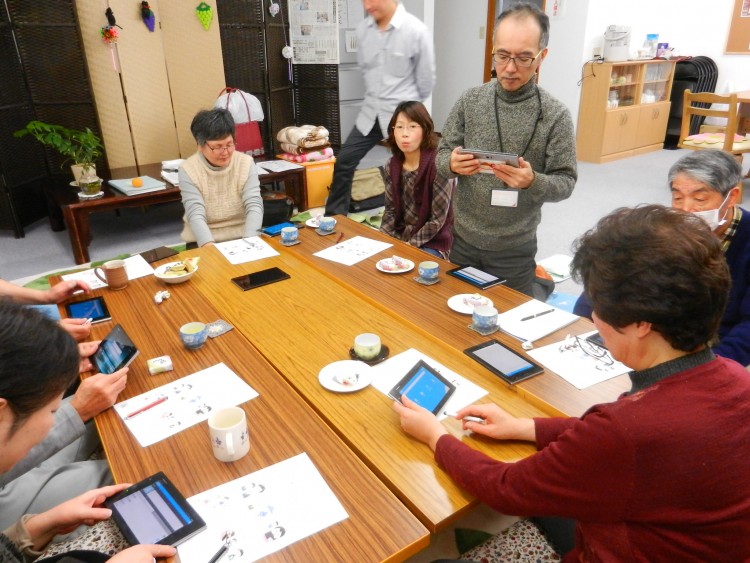 Sendan Hiroba is open on weekdays from 9:30 to 16:30, as well as every other Saturday. Two officers of the tenants' association are always on duty (on a shift system) to ensure the smooth use of the space, and free coffee is provided. There are around 12 visitors a day on average, and plans are made for people to interact. There are more female than male visitors.
Hobby-related gatherings such as classes for knitting, crafts, folk songs, and go and shogi are each held twice a month, and such regular use is encouraged. There are also classes on how to use tablets, which are held in cooperation with a nonprofit organization, health consultation gatherings with the Futaba Town Social Welfare Council, and individual employment consultations held together with the Fukushima Employment Support Center Koriyama. It is also used as a space for the local community, occasionally hosting performances by local students.
Deepening bonds and widening networks through Sendan Hiroba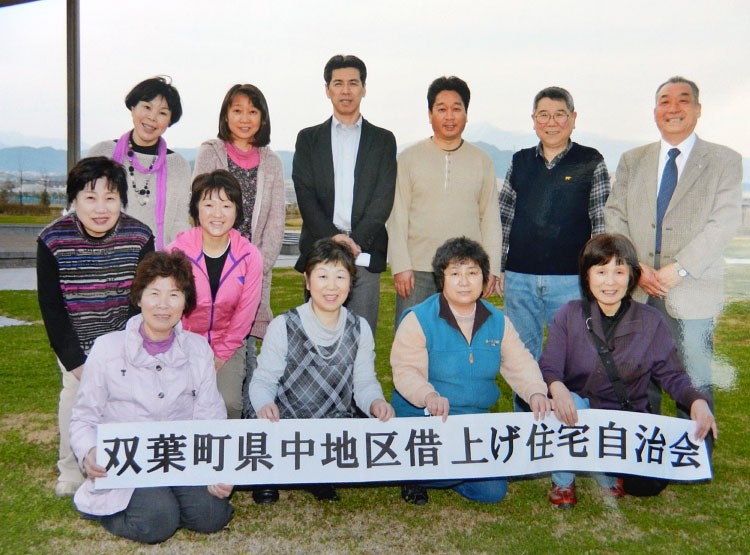 Officers of the tenants' association
Futaba Town has recognized the accomplishments of Sendan Hiroba in responding to the needs of residents, and the space has been funded by the town as a model project since Japanese Fiscal Year 2016. The bus on the temporary housing loop in Futaba Town stops at Sendan Hiroba.
Ito, who heads the tenants' association, passionately expressed the hope that Sendan Hiroba will become a space where not only tenants but all residents of Futaba gather together, and that it will serve as a place for their recreation and rest. The association, first set up by seven evacuees, is deepening the bonds between evacuees living in rented housing, and is now expanding its network to reach all town residents.
As civil society activities gain social recognition, they have come to be treated as public services that the government should be providing. This is a shift from private to public in responding to the needs of residents. For this reason alone, we expect more and more from the tenants' association running this project.
Stories from the Takeda Life and Livelihood Regeneration Program
JNPOC has received donations from Takeda Pharmaceutical Company Limited to be used for recovery efforts in areas affected by the Great East Japan Earthquake, and is running the Life and Livelihood Regeneration Program, which is broadly divided into the two themes of humanitarian aid and infrastructure development assistance. The program is being carried out mainly in the prefectures of Iwate, Miyagi and Fukushima. Here, the stories of some of the many nonprofit organizations carrying out assistance projects under this program are introduced.
Note: The original reports can be read in Japanese at <http://www.inochi-kurashi.jp/story/>, but some commentary is added here to make the context clearer for our English-speaking readers.
---
---