---
Posted on November 08, 2023
---
JNPOC publishes a quarterly organizational publication called
NPO no Hiroba
for its members. Each issue carries an interview with a prominent figure related to the Japanese nonprofit sector and civil society. For our English website, we pick some interviews and translate the summary for our readers.
The following article is the translated summary of the interview from the September 2023 (No.96) issue of NPO no Hiroba.

---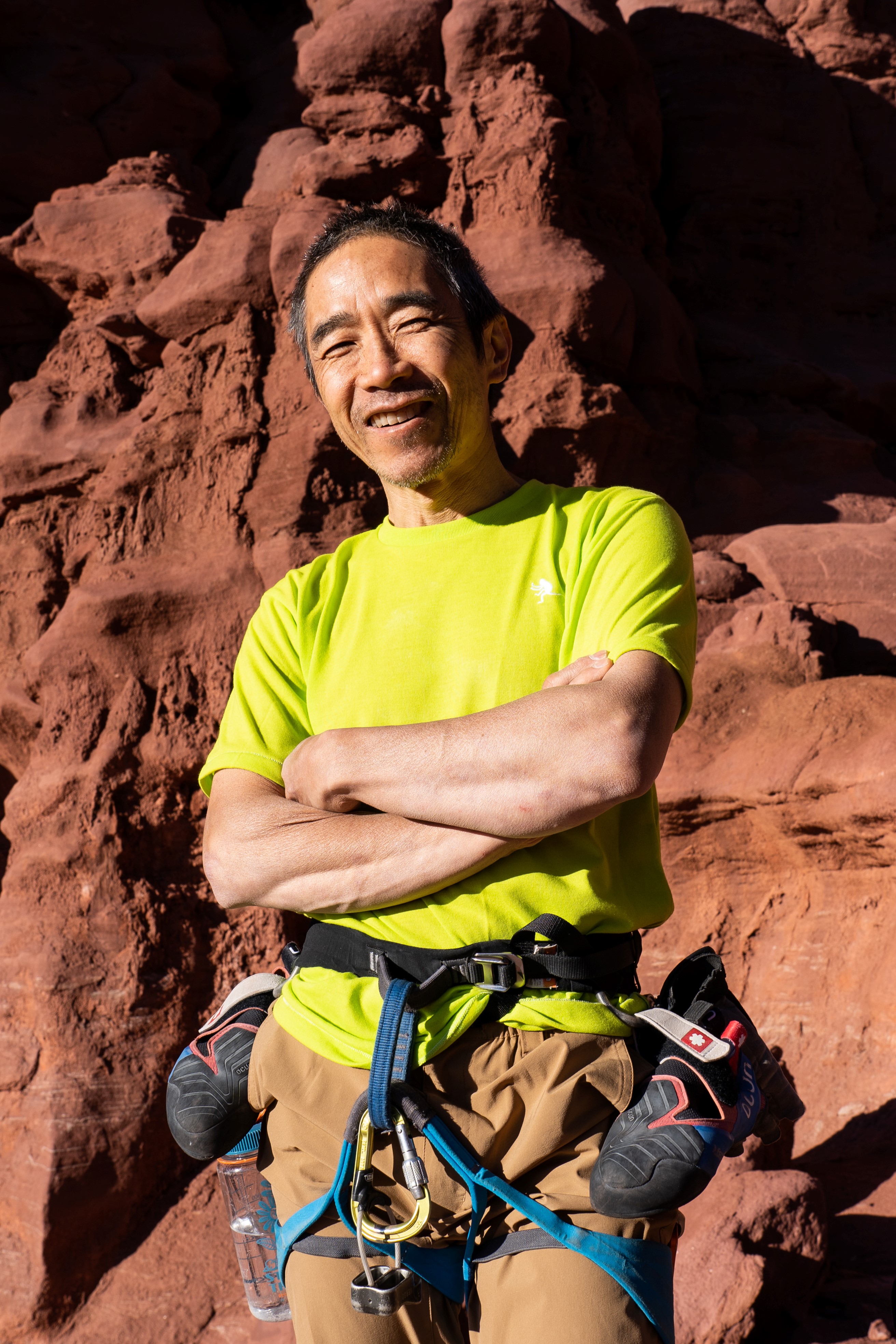 Mr.Koichiro Kobayashi
We interviewed Koichiro Kobayashi, the Founder and Director of Monkey Magic, a nonprofit organization (NPO) that promotes diversity in society through free climbing. Born in 1968, Kobayashi san took up the sport at the age of 16 but was diagnosed with retinitis pigmentosa and eventual blindness in his late 20s. He continued with the sport and won several international competitions including four consecutive wins at the Paraclimbing World Championships. Kobayashi san was featured as the main character of a recently released film, 'Life is Climbing!' He shared his thoughts with us on various topics including the episodes leading to the foundation of Monkey Magic, the aims of its activities, and how to cultivate ties with business enterprises.
Life is Climbing!
First of all, I would like to express my appreciation for the warm reception the movie has enjoyed to its staff members and audiences. As the success of the movie suggests, I have been very fortunate having enjoyed many priceless encounters, like that with Naoya, my sight guide also portrayed in the film. Through the documentary, I think you would see you can go forward and beyond if a friend is by your side. Another such special discovery for me was free climbing, which has made my life such a joyous one.
Encounters led me to start the nonprofit
When I was 28, I was diagnosed with retinitis pigmentosa and told I would lose my sight. As I was losing my vision gradually and sinking into despair, I met this caseworker who told me that I should think about what I would like to do and how I would like to live, and people around me and even society will support me in achieving my goals. Till then I had been looking for what I was not capable of doing anymore, but the caseworker's advice changed my attitude completely.

Then Naoya told me about Erik Weihenmayer, the first successful visually impaired mountaineer of the Everest. I contacted him through his website and managed to meet him personally. I had been contemplating giving climbing lessons to people with visual impairment and told him of the idea. Erik pointed out to me that many of persons with a variety of disabilities, as well as those visually impaired, in the States took up the sport, helping them regain their self-confidence. Erik encouraged me to be the first one to start the endeavor in Japan. The encounter with Erik, whose age is the same as mine, made me realize people with visual impairment possess far bigger potential than I had imagined.
Enriching the future of visually impaired people
I established a voluntary group and began contacting ophthalmologists, organizations helping the visually impaired, and schools for the blind but got cold-shouldered initially. Their unanimous response was that they would not let people with visual impairment take part in such a dangerous pursuit. But I was quite familiar with the attraction and value of climbing as I took up the sport when I was 16 years old. Also, I had learned that many with visual impairment in North America and Europe were enjoying the activity. I was fully convinced that my idea would change the future of the visually impaired people in Japan.

It occurred to me, however, that there might be an issue with my approach thus I changed my tactics. I began participating in the academic conferences. Even though my presentation there was not formal but just materials showing some cases, it was still one of a kind and gradually attracted interest amongst the attendees that some of them even took part in our activities and began collaborating with us. It transpired that many amongst orientation and mobility specialists and teachers from the schools for the blind were always seeking new goals for people with visual impairment; they began to see how the sport could fulfill such a role.
Evolution from climbing classes to social events
We established Monkey Magic, a specified nonprofit corporation, in 2005. Our climbing lessons were very popular with positive effects on the participants. One day, however, one of them pointed out to us that there could be climbing opportunities outside of our classes. Thus, we launched a social event connecting the disabled and able-bodied persons, where they enjoy free climbing together for better communication and mutual understanding and discovery that there are many different people in the world and society can change accordingly.

People with many sorts of disabilities participate in our lessons these days. We have introduced a class for those with developmental disabilities. There is no limit to enjoying climbing; the participants include a 70-year-old woman and an elementary-school pupil with total visual impairment, and my mother, who is in her eighties, also enjoys it.
Strong partnership with businesses is the key
I believe a strong partnership with businesses is essential to expanding our activities. I think two points are important in building such relationships. First, we should share the viewpoint of business people; if you regard a nonprofit's activities as its product, then ours is enriching society. Simply doing something good, however, is not sufficient to get support from businesses. We need to be mindful of what would be beneficial for the businesses to attract their interests in our activities and to have their contributions continue.

Another point is finding any affinity between our activities and their business. One example is Minoh Beer, a sponsor of ours since 2016. I approached them just because a monkey was illustrated on their crown corks. My past attempt in the craft beer import business perhaps helped me communicate with them better. Eventually, the two organizations' shared value chimed together: making society happier and richer through our endeavors. Even when you find that you have good affinity with a company, you might not experience joy initially. So, perseverance is essential along with strong conviction in what you do.
Another good example of persistence is the theme song of 'Life is Climbing!' It was sung by a Japanese rock band called Monkey Majik. I had kept on trying to contact with the band and saying so on my social media accounts. One day, a friend of mine, who had gotten acquainted with their manager, introduced me to them and the band accepted my request to get involved with the movie.

While we make many attempts to connect with businesses and others, those that end up being fruitful are far fewer than those that do not. That is why I am always looking for something that could be a lead to an opportunity for us.
Toward a society where anybody can enjoy taking on challenges
Our social events for understanding of diversity are now held in many cities, initially in Sapporo and now in about 20 cities nationwide, organized by the voluntary groups which share the values of our activities.

My goal now is to establish climbing venues where those with disabilities can go whenever they would like to in all 47 prefectures of Japan by 2025. I wonder if we could spread our endeavors to the other Asian countries. I think we can serve as a link between the communities of climbers and people with disabilities there, utilizing our experiences. 

I retired from competitive paraclimbing in March this year. From now on, I would like to spend my time on fulfillment of these goals. I suspect tackling issues associated with disabilities might sound too serious for some, and that is why I would like to create an event that appears amusing and fun for the onlookers. I believe what makes an activity sustainable is not necessarily that something good is done but that it brings about enjoyment and fun. I hope such joyfulness will naturally allow people to mutual recognition of diversity, paving the way toward a society where anybody can enjoy taking on challenges.
---
Interview and original text by NPO no Hiroba editorial staff, originally published in September 2023; translated by JNPOC.
---
---