---
Posted on October 13, 2020
---
As the research partner for Japan, Japan NPO Center participated in the Centre for Asian Philanthropy and Society's (CAPS) second edition of its Doing Good Index (DGI2020), which reveals the vital role of the social sector and how Asian countries help or hinder it.
The DGI2020 research surveyed 2,189 social delivery organizations and interviewed 145 country experts across the following 18 Asian countries/regions: Bangladesh, Cambodia, China, Hong Kong, India, Indonesia, Japan, Korea, Malaysia, Myanmar, Nepal, Pakistan, Philippines, Singapore, Sri Lanka, Taiwan, Thailand, and Vietnam. It examined regulatory regimes, tax incentives, procurement procedures, and socio-cultural conditions.
The study identifies opportunities for the Japanese government to do more for society, as well as how private/corporate donations must play their part in meeting people's needs.
In the country specific Japan profile and graphics, of which JNPOC is the primary author, you will be able to learn about the state of Japan's social sector, its recent changes, rising trends, and history.
Click the image bellow to read the country profile.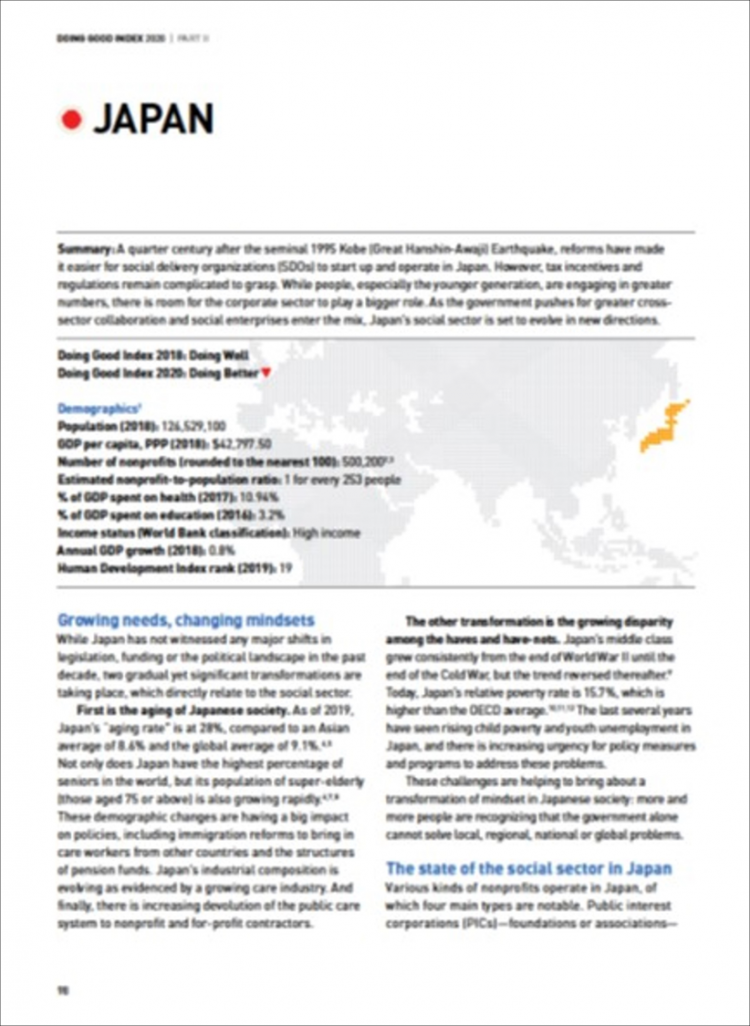 ---
---